Our essence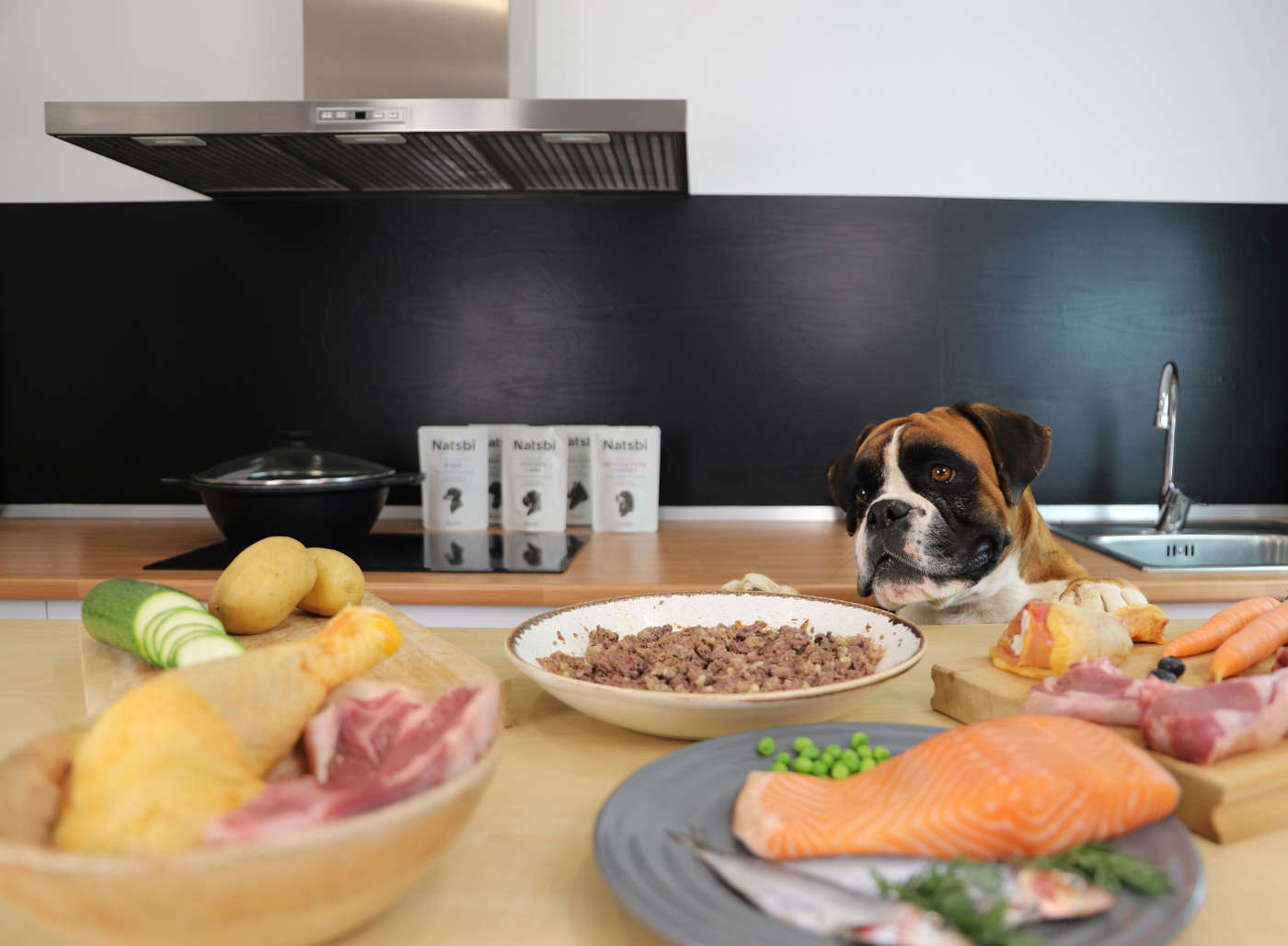 ---
A new food concept for your dog, different to everything that exists up to now. Made with cooking methods and techniques inspired by the highest gastronomy.
Steamed, without added water, minimally processed ingredients to achieve the maximum nutrition. Neither dry or wet: Natsbi.
This food is for you if:
You want the most natural for your dog
You want an alternative to kibble
You are not happy about the BARF diet
You are a gastronomic lover and want to share this passion with your best friend
---
Ingredients
Salmon oil

Very healthy source of energy, rich in Omega 3, helps reduce joint pain with its anti-inflammatory effect, and contributes to a good cardiovascular health.
Lingonberries

A treasure for their health, for its nutritional value and for its high antioxidant content, which help with premature aging neutralizing free radicals, reduce inflammation and they're also good for the heart and sight.
Integral rice

It's the carbohydrate with the highest digestibility among all the cereals. It contains a large proportion of starch, which nutritionally works as an energy reserve and provides a feeling of satiety.
Blue whiting

One of the white fish with the most exquisite flavor, standing out for its high protein content, Omega3 fatty acids, and for its contribution to the strengthening of bones and teeth thanks to its calcium and phosphorous.
Pumpkin

Rich in potassium, folic acid, and the powerful beta-carotene antioxidants. Helps to keep up a good immune system and helps with the regulation of arterial pressure.
Iberian pork

Meat whose fat is rich in monounsaturated fatty acids, much healthier and with proteins of high biological value. Rich in B vitamins such as B1, B2, B6, B12, niacin and folic acid, which help to the immune system.
Mutton

Easily digestible red meat. Improves palatability due to its high fat content and is an excellent source of protein containing all the essential amino acids that a dog needs. Works great with senior dogs.
Green peas

Legume that provides proteins and carbohydrates. They are rich in potassium, vitamin A and vitamin C.
Apple

A source of dietary fiber, vitamin C, B vitamins and rich in antioxidant compounds.
Chicken thigh

Very appetizing and easily digestible meat, rich in protein and low in fat, provides essential amino acids such as tryptophan to keep lean muscle mass.
Duck

Meat with high biological value proteins, which also provides B vitamins such as riboflavin, thiamine, niacin, and vitamin B12 and B5, as well as easily absorbed minerals such as magnesium, phosphorous, potassium and iron.
Turkey

White meat of easy digestion and high nutritional quality, low in saturated fats, and rich in protein and essential fatty acids. Rich in minerals such as potassium, magnesium, iron, and B vitamins.
Salmon

Very healthy oily fish due to its protein and Omega 3 fatty acids. Its healthy fats help protect the brain and the joints.
Carrot

Vegetable with very few calories and many vitamins, which provide multiple health benefits. Very rich in vitamin A and beta-carotene, a very powerful antioxidant.